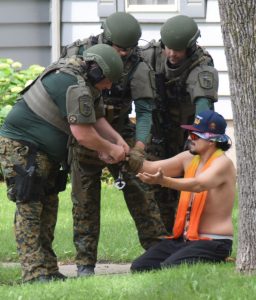 (Redwood Falls, MN) – A neighborhood in Redwood Falls was put on lockdown Thursday afternoon when a man experiencing a mental health crisis barricaded himself in a house with weapons.
At approximately 9:24 a.m. the Redwood Falls Police Department received a call from an adult female who stated she was in the residence located on East Wyoming Street in Redwood Falls with two juvenile children.  She reported that 33-year-old Mario Mountain, of Redwood Falls, was also in the house and threatening to harm them.
When officers arrived at the scene, the female and children were able to get out of the residence.  She reported Mountain was still inside and had access to a variety of knives and improvised weapons.  Based on her report to law enforcement regarding the statements made by Mountain coupled with his behavior, law enforcement believed Mountain was experiencing a mental health crisis.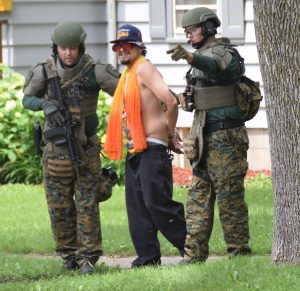 Officers attempted to make contact with Mountain from outside the residence but he refused to speak with them. Mountain then proceeded to lock the doors and close the blinds.
The Brown/Lyon/Redwood/Renville Emergency Response Unit (BLRR ERU) was activated and responded to the scene.  After several hours of attempting to make contact, a friend of Mountain arrived on scene, established contact, and convinced him to come out of the house.  Mountain surrendered without incident and was transported to the Redwood Area Hospital for evaluation.
Due to the nature of the incident the names of the reporting party and juveniles are not being released.
Assisting at the scene was the Redwood County Sheriff's Department, North Ambulance and member agencies of the BLRR/ERU.
Source: KLGR
Click here to LIKE Southern Minnesota News on Facebook.
Click here to FOLLOW @SouthernMNnews on Twitter.
(Copyright © 2018 Southern Minnesota News – Alpha Media Mankato. All rights reserved. This material may not be published, broadcast, rewritten or redistributed.)